Right after Labor Day in September, the Best Christmas Trees on Pinterest begin to come alive. On Pinterest, you will find the most creative Christmas trees in the world. These magical Christmas trees are pinned thousands of times on Pinterest. If you are looking for the best Christmas tree ideas, Pinterest is the place to be. Even Pinterest officially confirms that the period leading up to the Christmas holidays is one of the busiest on their site.
That's why we are excited to post 9 of the most magical and the Best Christmas Trees on Pinterest.
Christmas Tree in Bold Color Palette of Red
Looking at this Christmas tree, you will agree that red, green and white are indeed the favorite colors of Christmas. With beautiful ornaments, snowflakes, pinecones, and stockings, this bold color palette of red take Christmas tree decor to a whole new level.
Source: Celebrate Mag
2.  Michael's Dream Tree Challenge
This Christmas tree is the result of a fun challenge called Michael's Dream Tree Challenge. Inspired by the "Let It Snow" theme, this green, white and silver Christmas tree first began on Facebook. Complete with a model owl and vintage family photos, and looking at how magical this Christmas tree looks, it is clear that Michael passed this Dream Tree Challenge!
Source: The Tomkat Studio
3. Red, White and Sparkle with Snowy Branch and Velvet Plum Blossom
This Christmas tree is one of the most creative we have ever seen on Pinterest. It was designed from scratch and the result is a masterpiece. There is even a video to show you the whole design process, from A to Z. The message is clear: nothing says Christmas better than Red, White and Sparkle with Snowy Branch and Velvet Plum Blossom. No wonder, it was made by Balsam Hill: they specialize in building beautiful Christmas trees.
Source: Balsam Hill
4. Buffalo Check Plaid Christmas Tree
Rustic Christmas Tree with Buffalo Check and Flannel Ribbon
Part rustic, part cosmopolitan, this Christmas tree is one of the best on Pinterest. No wonder its been pinned so many times.
Here's a tip from the designer: "My christmas trees although they look like I've spent a fortune I really haven't I am very frugal. In fact I buy all my ornaments after Christmas and save them for next year" Well, that's a good lesson in living frugal…. and also in Christmas tree design!
Source: Weekend Craft
5. Santa Christmas Tree
This Christmas tree is a great attempt at bringing Santa home and keeping him there for as long as possible. The Christmas tree is called Santa Christmas Tree. From our research, we have seen that whenever people are passionate about a particular Christmas tree design and then take time to bring their tree to life, it usually comes out right. This Santa Christmas Tree is a classic example.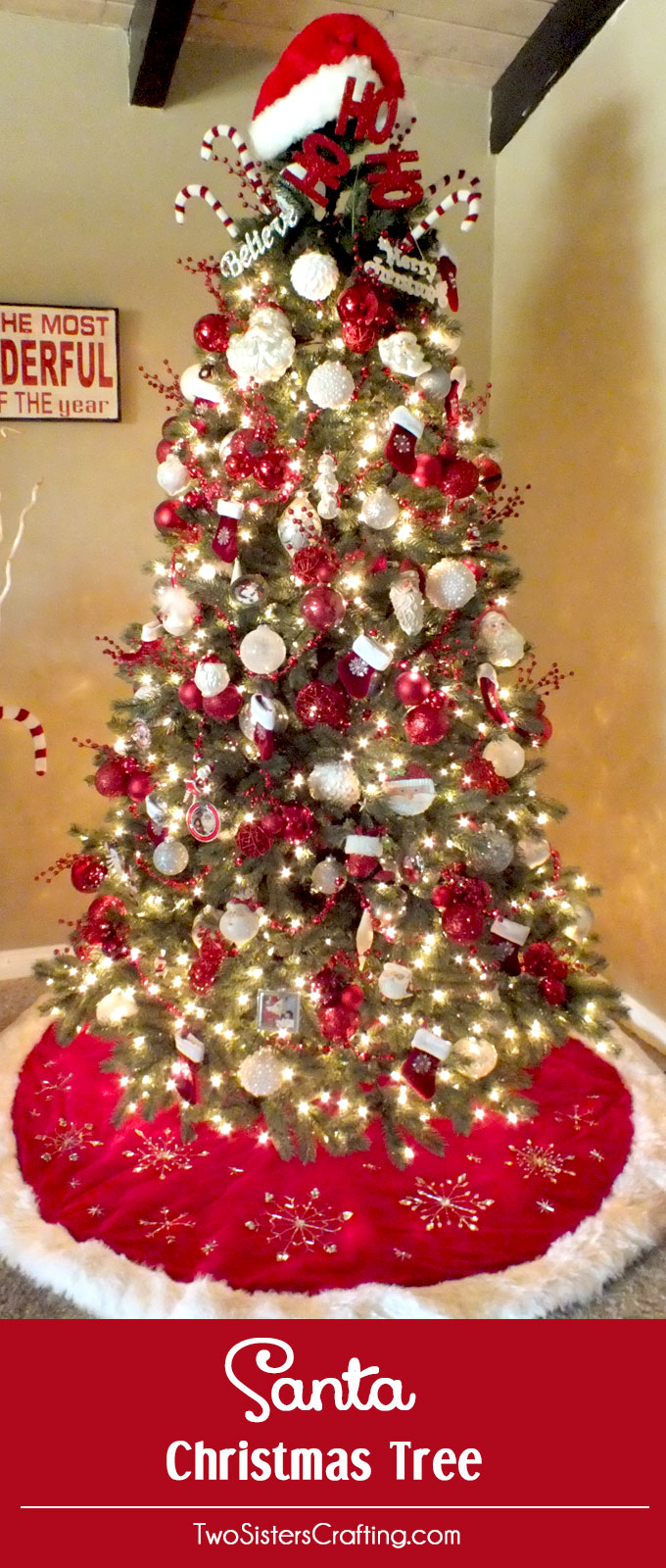 Source: Two Sisters
6. Snow Themed Christmas Tree
Red, White and Green are the most popular colors for designing Christmas trees. Recently, though, white Christmas trees and snow themed designs have become so trendy. And rightfully so. This rustic snow themed Christmas tree was featured by Christmas 365 Greetings, a Christmas-focused website.
Source: Christmas 365 Greetings
7. Elegant Christmas Tree
This magically decorated Christmas tree is one of the most elegant on Pinterest. No wonder it's been pinned many, many times.
Source: Christmas 365 Greetings
8. Santa Christmas Tree with Candy Canes
Here's another version of the ever popular Santa Christmas tee. This time, it comes fully complete with candy canes and Santa's belt! Ho Ho Ho!
Source: Christmas 365 Greetings
9. Visions of Sugarplums & Shining Bright
This pair of Christmas trees are probably the most elegant Christmas trees on Pinterest.
They are so beautiful that they deserve special words to describe them ……
"Let bold colors and a touch of sparkle brighten up your tree. The addition of rich purples and blues to traditional red and green makes a beautiful, festive palette.
Light up the room with a tree glowing with white plus metallic shades of gold and silver. Carry the hues to the wrapped presents surrounding the base of the tree to complete the theme."
Source: Celebrate Mag
9 Best Christmas Trees on Pinterest –  Final Thoughts
Christmas is the most wonderful time of the year. And nothing brings the spirit and joy of Christmas better than a well designed, beautifully adorned Christmas tree. On Pinterest, Christmas magic comes alive. Hopefully these 9 Best Christmas Trees on Pinterest will inspire you to create your own in the most special way. Merry Christmas!
Affiliate Disclosure: we are members of the Amazon Associates Affiliate Program and other affiliate programs. There are affiliate links on this page and we may receive a small commission from your purchase if you click on our links and buy. There's absolutely no cost to you Thanks for your support. We appreciate it.